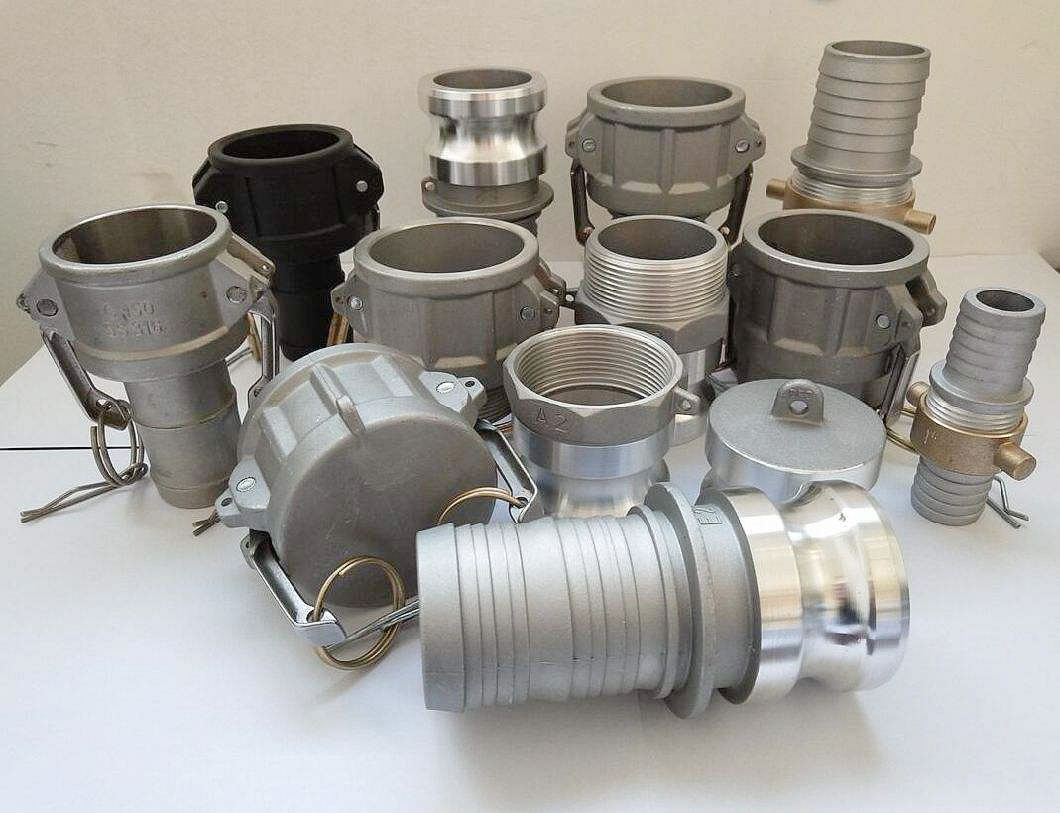 Aluminum Camlock Couplings
Are you looking for the best types of camlock couplings for your specific needs? If so, look no further than aluminum camlock couplings. We offer many kinds of camlock couplings, but this one is the best.
The Popularity of Aluminum Camlock Couplings
At this point, you should have noticed that to make any container firmly and closely packed, most industries utilize camlock fittings. This is also known as groove and cam couplings. These groove or cam couplings are utilized in various processes, such as in the transportation of dry and liquid products. Usually, it is available in a standard size that is ¾ inch to 6 inches. These are made of various materials such as brass, stainless steel, ductile iron, polypropylene, nylon as well as other thermoplastic materials such as alloys. But, one of the most popular ones is aluminum camlock couplings.
What is Aluminum Camlock Couplings?
Aluminum cam and groove couplings or aluminum camlock couplings are a tough and cost-effective choice for fast connect and disconnect couplings for various hoses such as industrial hoses, PVC suction hoses as well as PVC lay flat hoses utilized in agricultural irrigation, water transfer of industries, construction as well as petroleum and chemical delivery. The working temperature of this coupling ranges from 150 degrees Fahrenheit to 250 degrees Fahrenheit or 101 degrees Celsius to 121 degrees Celsius. The working temperature of this kind of camlock coupling does not go beyond 250 PSI at ambient temperature.
These aluminum camlock couplings are available in various sizes that range from ½ inches to 8 inches in accordance to MIL-C-27487/ISO A-A-59326. ½ inch through 4 inches and 6-inch parts is compatible, while 5 inches and 8 inches through 12 inches aren't compatible with no standards are recognized for these specifications. The aluminum quick connects and disconnect couplings we offer are made by gravity casting. So, you are assured of the best quality.
Why Consider Aluminum Camlock Couplings?
This type of camlock coupling is the robust, lightweight camlock option with superb corrosion resistance. We aim to play your camlock needs by offering the best and high-quality for price aluminum cam as well as groove couplings that we dispatch every day from our warehouse. The aluminum cam and groove couplings we offer are gravity cast for the best and superior quality.
This is also used to handle various things such as chemical, petroleum, rail car unloading, agriculture, and water and dry bulk handling. These are relatively advantageous and beneficial for their easy connect and easy design. As a result, most industries go for it as the people can make quick and easy connection.
What are the Perks of Aluminum Camlock Couplings? 
There are many benefits you can get from using this type of couplings, such as:
Save time as opposed to threaded or flanged couplings/fittings.
No tools required
Safety sealing for pellets, powders, and fluids
Durable and lightweight
What is the Work Pressure of Aluminum Cam and Groove Coupling? 
The working pressure is for ambient temps with the use of elastomeric seals. As the temperature goes up and the PTFE gasket is utilized, the working pressure will lessen accordingly.
Buying Aluminum Camlock Fittings is Easier with Us
We make it easy and fast for our clients to buy their Aluminum Camlock Fittings all in one place via our online store. These are stocked in different sizes, with special dimensions available by request. Because of the durability and good pricing, the best-selling lock hose fitting is aluminum. We provide the best and top of line Aluminum Camlock Couplings that are high quality and straight from our warehouse.