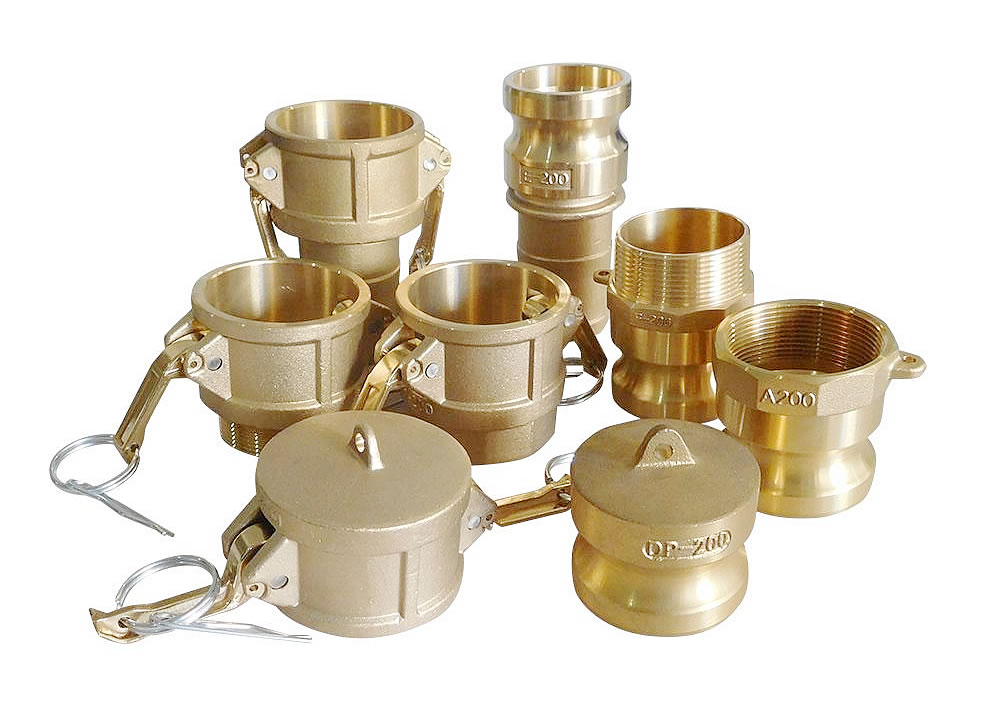 Brass Camlock Fittings
Stainless steel camlock fittings are the go-to choose for businesses because they are not easy to rust. Whether 304 or 316 is used, stainless steel camlock fittings are popular for their compatibility, formability, and heat resistance. Stainless steel camlock fittings have a clean inner wall, which is developed to avoid impurities. Their intensity is excellent.
Another top favorite of most businesses is the brass camlock fitting. When looking for a brass camlock fitting, you will be in good hands with BR Industry CO., LTD. We also manufacture camlock fitting made of brass aside from stainless steel.
We use 100% top-grade materials that level the quality and performance of our products. We never utilize any substandard components in our camlock couplings to ensure a corrosion-free environment, cut down costs, optimize operations, and increase bigger savings.
Similar to our SS camlock, our brass fittings for food, chemistry, and agriculture industries are designed to have incredible corrosive resistance against the elements such as water, petroleum, hydraulic oil, gasoline, and coolants.
Featuring a non-sparking capacity, our brass camlock fittings can be applied in marine and other special places, making them a flexible investment.
When finding the right brass camlock fittings, it is important to identify your hose and pipe projects' right size. At BR Industry CO., LTD, we have multiple options to choose from, including brass camlock coupling type A, brass camlock coupling type B, brass camlock coupling type C, and more. For more information, feel free to contact us.
With many brass camlock fittings, it's a common problem for new business owners to struggle when selecting the right coupling. As a number one manufacturer of camlock, we have a friendly, accommodating, and trained team to help you make decisions with confidence and ensure great value.
Stainless steel and brass camlock couplings both have corrosive resistance, durability, and high tensile strength. But the latter is less expensive compared to the latter. Whether you want to invest in rust-resistant or relatively priced camlock fittings, our brass couplings are perfect.
More than the reasonable price and good tensile strength, our brass camlock fittings are made with easier and softer thread. That means connecting pipes and hoses or using the fittings will not take a day to finish. They are less stressful to set up while allowing business owners to focus on other vital aspects of running a company.
Our brass camlock fittings are also used in tanks, low pressure suction, discharge hose of pumps, and IBC. Apart from marine applications, they are installed in other places that require quick connection and disconnection.
Other Excellent Features 
The corrosive resistance can compete with the capacity of stainless steel and other popular materials. 
There are no extra tools required. You can set them up right away. 
Prior knowledge may be necessary. But we provide an instructions manual you can use during installation, so there's nothing to worry about.
Robust, long-lasting, and durable, it can last for years while protecting you against constant replacement or repair. 
They are more cost-effective than stainless steel. 
For more information, contact us at +86 15511776965 or send us your concerns at [email protected].