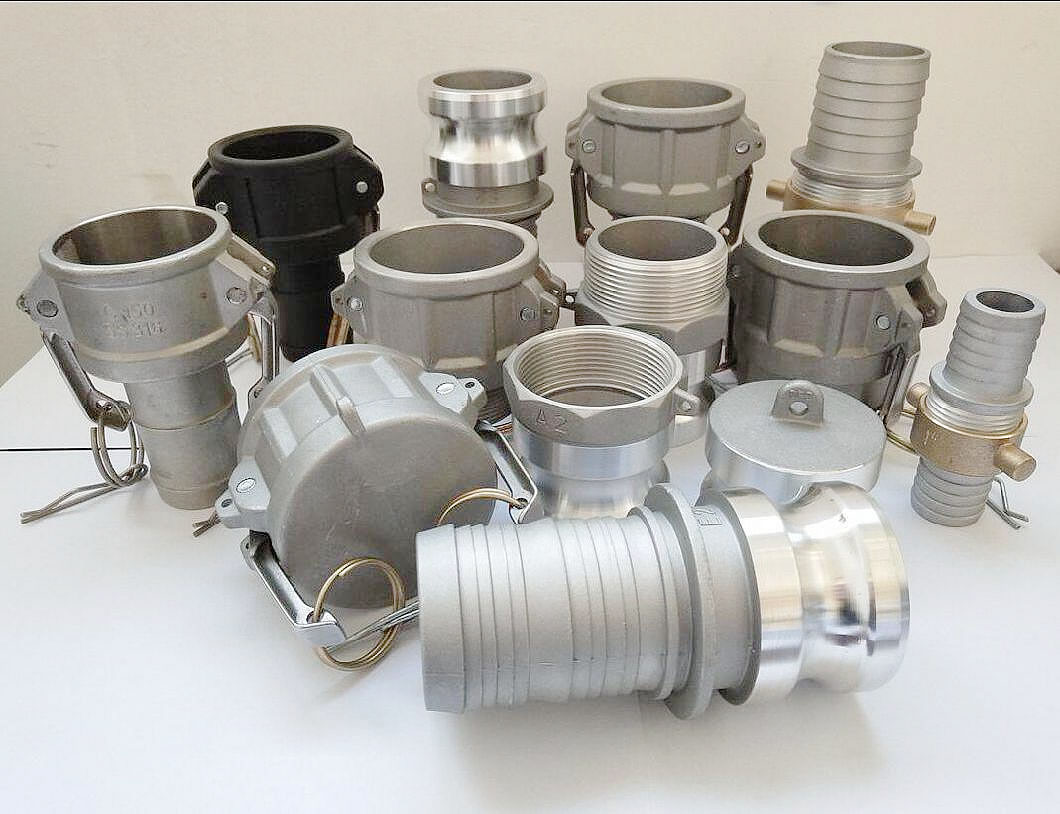 Camlock Fitting Types
Stainless steel camlock fittings have taken the world by storm. Businesses from different industries have switched to SS camlock fittings because of their excellent durability, ease of use, versatile applications, and optimal rust resistance.
At BR Industry CO., LTD, we create, develop, and manufacture the best and the most sought-after SS camlock fittings for companies of all sizes. As a one-stop-shop for businesses, we have a wide collection of products to reach unique client's needs and objectives. Some of them are highlighted below:
– SS Camlock Fitting Type A 
SS camlock fitting type A is one of our best sellers. Usually made to A-A-59326 or DIN 2828. We use investment casting, stainless steel pins, safety clips, and rings. The sizes available range from 1/2 inches to 6 inches. Our camlock fitting type A consists of an envelope gasket made of NBRR, PTFE, Viton, and EPDM for the sealings. We also get them delivered on time.
– SS Camlock Fitting Type B
Another favorite of our clients is the SS camlock fitting type B. It is forged and packed with stainless steel. For pins, safety clips, and rings, they are all steel-plated. It is extremely versatile because it can be applied in various industries, including fire protection, mining, food, chemistry, agriculture, and more.
– SS Camlock Fitting Type C
We also provide and manufacture camlock fitting type C. Just like type B, it is forged and can be used in food, chemistry, and other niches. It is easy to use. Both connection and disconnection are simpler than ever. Internationally approved, our camlock fitting type C guarantees superb performance and excellent features. If you need camlock fitting type C in bulk, we also have got you covered.
– SS Camlock Fitting Type D
Since establishment, we've been delivering the highest quality and the finest camlock fitting type D to companies in mining, oil, food, fire protection, chemistry, agriculture, and other industries. Experts-recommended and internationally approved, our type D camlock fitting is corrosion-resistant, sturdy, rotproof, and long-lasting.
– SS Camlock Fitting Type E
When searching for camlock fitting type E, you're in good hands with BR Industry CO., LTD. It is forged. Both the body and handle have stainless steel. The rings, safety clips, and pins are steel plated for added strength and durability. Plus, it is resistant to heat, low temperature, and corrosion.
– SS Camlock Fitting Type F 
We keep all our products resistant to the elements, and this is evident in our SS camlock fitting type F. It is stainless steel powered and available at the best price possible.
– SS Camlock Fitting Type DC & DP 
Great durability? High strength? Long-lasting performance? Affordability? Flexibility? Name it! SS camlock fitting type DC and DP are developed and manufactured beyond your expectations and business requirements.
Schedule a Consultation! 
For more information about our camlock fitting type, please feel free to give us a call. We have a team of capable professionals that are trained and qualified to help businesses.
Be part of our growing number of satisfied and happy customers now!