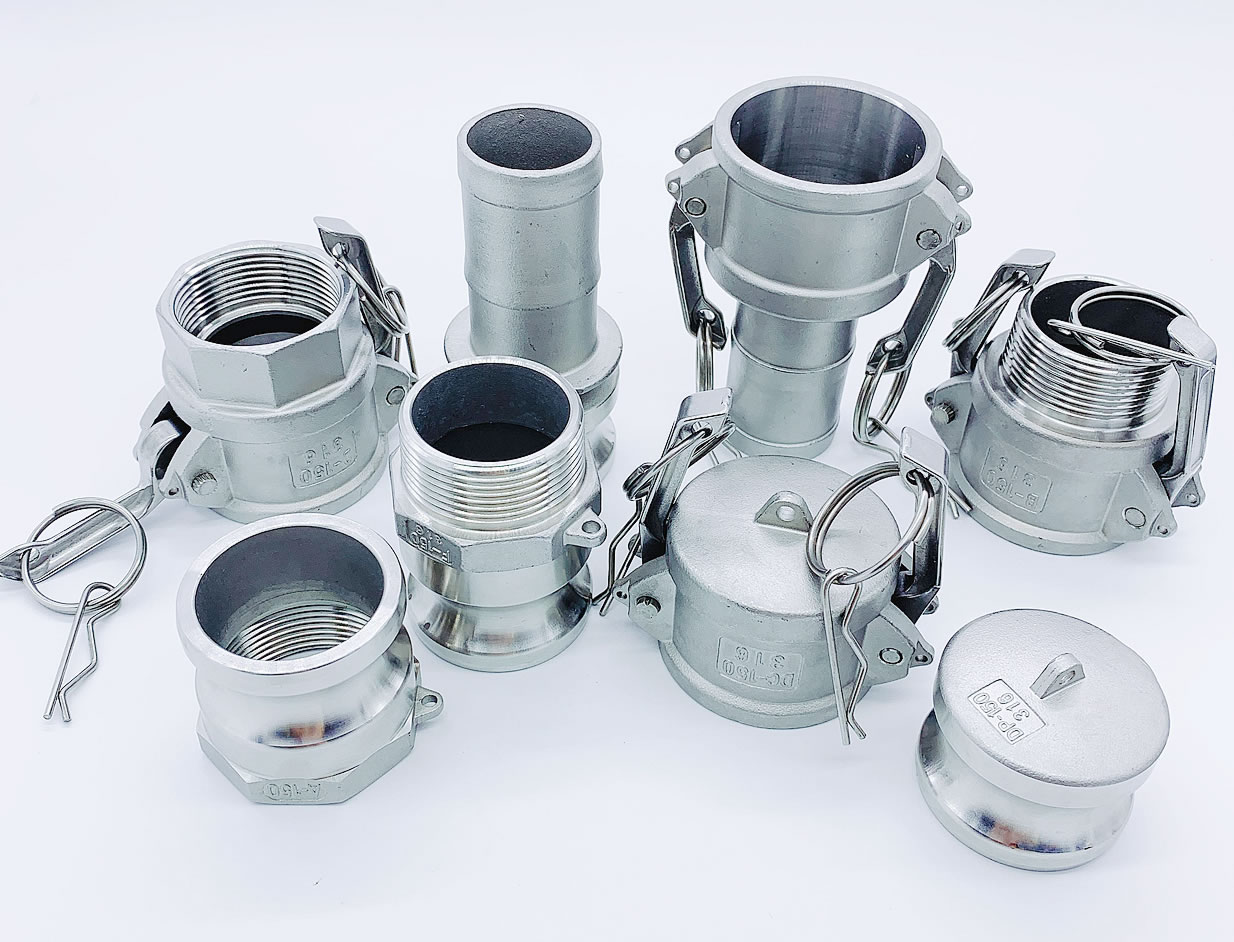 Camlock Type
Camlock fitting or groove and cam couplings is utilized to link two pipes or hoses as one so that a material from one can be moved to the other. This camlock is user-friendly, needing no special tools to attach and detached the two halves of the couplings. They substituted conventional time-consuming ways of connecting pipe or hose. They are also very cost-efficient.
Usually, you will find camlock in the application in every industry like oil, agriculture, manufacturing, and gas, pharmaceutical, chemical, as well as in military uses. This is a very versatile product, and as there is no thread when connecting, there is no problem with them becoming dirty or damaged. So, camlock is ideal for dirty settings. This is well-suited to a condition where constant changes of hoses are needed, as industrial or petroleum filtration uses.
Camlock is beneficial because of its quick as well as easy connect design. As a result, most of the industries choose it as connecting is fast.
There are different kinds of camlock available:
Stainless Steel Camlock Coupling: This camlock type is made of high-quality stainless steel, or nylon aluminum brass as well as cast iron. You can find many sizes of it that range from ½ inch to 8".
Camlock Type B: In most of the chemical as well as petrochemical industries, a wide range of camlock type b is used. Many other industries that use this kind of fitting are atomic energy, fertilizers, power plants, steel plants, and many others. These are accessible from ½ inch to 6 inches in size. The shape is equal to all sides. Materials used are aluminum, pp, brass, nylon as well as stainless steel.
Polypropylene Camlock Type: At this point, you can find a various selection of this camlock type. They are available in various sizes and specs. You can also customize them for your needs and specifications and can buy them at a fraction of the cost.
Quick Release Type: As for your specification, you can now buy a quick release camlock with the specified specifications. These are utilized in the liquid transfer as well as hydraulic systems, compressed airlines, and many industrial uses. You can buy them for a fraction of the cost.
Brass Couplings: You can buy superior and high-quality fittings made of brass at this point. It works under a pressure of six bar working temp that range from thirty to sixty.
How Does it Work?
The camlock fitting takes account of a female and male adapter. To attach and detached, you have to follow these steps:
Expand the handed outwards and put the right size male adapter into the female couplers.
Lock both handles and until the two halves are tightly fixed together
Locking the handles, ensure the adapter is dragged down equally onto the seal, which makes a leak-proof congregation for efficient and safe moving of liquids.
Overturn the process to detach the coupling, which makes sure doing in order to the de-pressurized hose assembly.
How to Pick the Best Camlock Type
When stating a coupling, there are many fields of information needed, such as:
S:  Size
T: Temperature
A: Application
M: Material (or media being utilized)
P: Pressure rating needed
E: End fittings and connections (the type of thread)
D: Delivery (additional like material certifications)
These specs differ with the material and size
Do you have concerns and issues about the camlock type or need assistance on which couplings will work best for you? Please feel free to contact us immediately? We are always here to help you meet your needs!