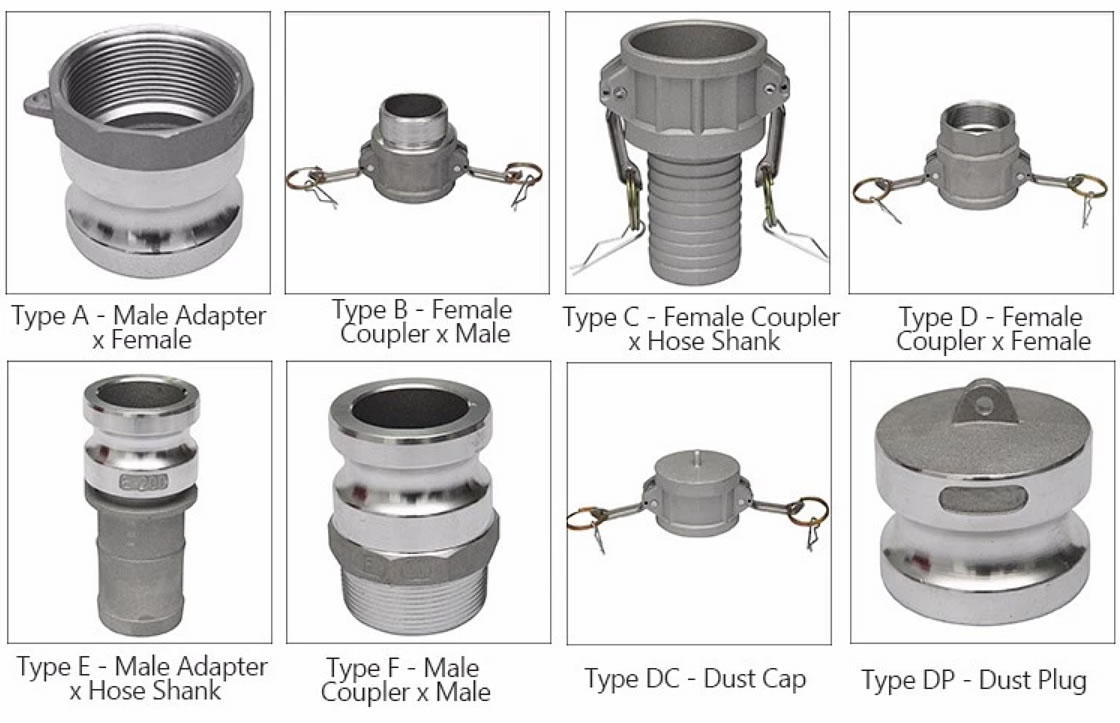 Quick Coupler Adapter And Fittings
A quick coupler adapter and fitting or quick-connect coupling or push to connect coupling is utilized in various conditions that need an essential connection in tubes or lines that carry fluid, water, and air. This can be attached by the user with ease and don't need the application of a special tool. Usually, it has seal-sealing valves on both half, and each half comes with a hose coupling as well as a quick connect end, even though the coupling has a threaded, flared barbed and other forms of connection.
Various Kinds of Quick Coupler Adapter and Fittings
We offer various sizes and materials. For uses that need corrosion resistance, stainless steel or brass fitting is a perfect choice. Temp involved in the use and material compatibility, coupling pressure rating, style of connection, and the type of seal must be considered when picking a coupler adapter and fittings.
Applications
Snap type connection, bayonet, and non-latching designs are all possibilities with this hose coupling. The y are commonly utilized in settings that need the removal of hose. Uses that accommodate this fitting take account of steam, gas, hydraulic, pneumatic, and vacuum. A common form involves the standard external end to the internal end.
Quick Coupler Adapter and Fittings are able to boost the working of the tools or equipment and boost the manufacturing process effectively. Adding our Fittings to piping will make the connection and disconnection tubing safer, cleaner as well as faster. Other amazing perks takes account of the following:
Prevent Leakage or Spills: For better performance and avoid spillage, our fittings are made with our state of the art non-spill system. Reduced spillage means further security from fumes and chemicals as well as a cleaner environment.
Decreased Inclusion: Air can go into the system when a fitting is not connected; this is also known as inclusion. Many conventional fittings enable 2ml of inclusion every time the fitting is not connected. Our Quick Coupler Adapter and Fittings can lessen this inclusion for every connection cycle.
Ergonomic Designs: Many of our fittings feature amazing designs that make it simple to link and detach, even if you are wearing gloves.
Efficiency: The product we offer is made to make the cycle of connection easy and fast; you are able to lessen downtime for the tools or equipment.
Longevity: Our product is reliable and made to offer tight and secure connections, even if left connected for many months and even years. Tough materials and high quality construction, which include exceptional engineered polymers, provide our couplers the toughness to survive harsh working conditions as well as constant connection cycles.
Avoid Accidental Disconnections: We made our products intending to get rid of accidental connections; thus, your equipment can work with utmost efficiency and safety.
We Are a Reliable Dealer of High Quality Quick Coupler Adapter and Fittings
We provide superior fittings that can assists you meet production and maintenance goals in a specific industry. The agriculture, construction, and other industries are at present mobile equipment applications can gain from our fittings.
Our state of the art Quick Coupler Adapter and Fittings can give you superb results, such as user-friendly without leak and least hindrance to flow during operations. Many couplings look the same from the outside look; so, make sure to assess the system very carefully to ensure it meets the needed performance reliability and specs.